Madison County: Top 5 in 5 Young Professionals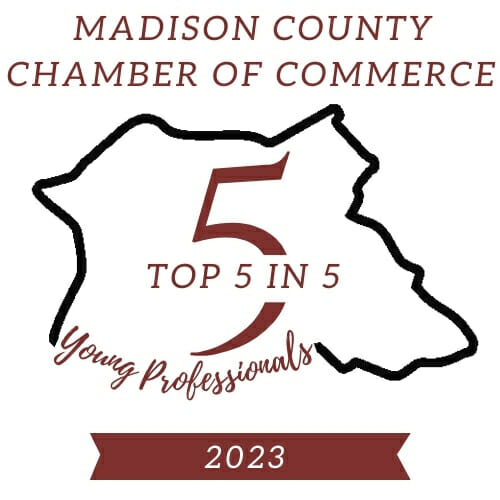 The "Top 5 in 5" is an intiative designed to cultivate and showcase exceptional Madison County Young Professionals.
Do you know a 20-40 year-old rising professional residing in Madison County who is an up-and-coming leader? Do they have their sights set on where they want to be in the next five to ten years? Perhaps that person is you. The Madison County Chamber of Commerce invites you to complete the nomination form below above. Are you or your nominee one of Madison County's Top 5 in 5 'Young Professionals to Watch'?
Nominations are due no later than August 7th at noon (submission instructions can be found in the "Nominate Here" Link). Following the deadline, nominees will be notified and asked to apply as well as information regarding their previous and current accomplishments, community involvement, professional goals, etc.
2022 Top 5 in 5 Nominees: 
Left to Right: Dr. Tyson Strickland, DVM, Owner Veterinarian, Comer Veterinary Hospital & Comer Livestock Solutions; Emily Nix, Chief Operations Officer, Mercy Health Center; Nathan Coker, Operations Manager, Stanfield Air Systems; Jill Parham, Relationship Manager, The Commercial Bank; Dylan Chandler, Insurance Agent, Madison County Farm Bureau.