The Madison County Chamber of Commerce understands that a skilled workforce is the foundation for a thriving economy. Between being home to a top ranked K-12 school system and being situated in close proximity to The University of Georgia, Emmanuel College, and Athens Technical College, Madison County proudly serves as a talent pipeline for local and regional business & industry.
The Work-Based Learning (WBL) Program at Madison County High School/The Broad River College and Career Academy is the great connector between the school system and local business & industry. With a mission of "providing students with the opportunity to gain relevant job skills & valued work experience through internships while preparing for tomorrow's workforce," the program's role in developing a "MADICO MADE Workforce" for our economy cannot be understated.
Employability Skill training
Professionalism & Work ethic


All BRCCA students are evaluated on the following criteria in addition to their traditional course work:
Appearance
Attitude
Character (traits include honesty, kindness, self-control, integrity, loyalty, patience, tolerance)
Communication
Cooperation
Creativity
Critical Thinking
Advanced WBL students undergo rigorous employability skill training, preparing them to enter the workforce with a unique skill set beyond the technical training associated with a curricu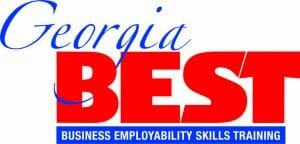 lum. Through the GeogiaBest Certification Program, students must comprehend and demonstrate the mastery of these much needed soft skills for the workplace:
Attitude
Initiative
Flexibility
Organization
Discipline
Integrity
Respect
Effective Communication
Teamwork
Attendance & Punctuality
Customer Service
Critical Thinking & Problem Solving
Technology Usage & Social Media Ethics
Professionalism
Adherence to Policy
Real World Work Experience
MADICO MADE JOB SHADOWING DAY
Held twice a year, this event is designed to 1) increase awareness and interest surrounding Madison County High School's/the Broad River College and Career Academy's Work-Based Learning Program and 2) give our members an additional platform to increase their visibility among the community and promote their business/industry to our future MADICO MADE workforce.
Participation in this special day is not guaranteed and will be granted based upon student availability and compatibility. The Chamber members selected to participate will receive special recognition throughout the day on various social media outlets as well as in the local paper.
To see the success of Fall 2021 Job Shadowing Day, please click here.
FIRST ANNUAL MADICO MADE CAREER SIGNING DAY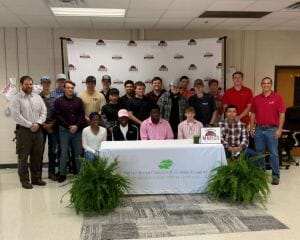 Madison County High School and the Broad River College and Career Academy recently hosted the First Annual MADICO MADE Career Signing for students entering the workforce or the U.S. Military directly after graduation. The event was following by a reception with students, families, and employers.
The Chamber's Workforce Development & Education Committee is proud to promote the MADICO MADE workforce as the premier talent pipeline for local business & industry as a result of rigorous coursework, challenging extra-curriculars, apprenticeships with local businesses, translatable employability skills training, and other leadership development opportunities.
Congratulations to these students and local employers for being recognized:
Armed Forces
Kevin Albarron- Marines
Jacob Thompson- Marines
David Huff - Marines
Manufacturing
Kameron Johnson - Kubota
Kourtney Johnson - Kubota
Zalan Smith - ABB Baldor
Saw Zacharia - Evergreen Packaging
Dylan Vining - Caterpillar
HVAC
Brayson Walker - Walker HVAC
Ashton Hill - Stanfield Air Systems
Andrew Herrin - Jordan Air
Jesse Williamson-Laduke - Jordan Air
Electrical
Donnie Graham - Ash Electric
Jake Scarboro - Electrical Apprenticeship - Inglett and Stubbs
Aiden Moore- Electrical Apprenticeship - Escoe Industrial
General Construction
Logan Holloway - IMI
Kaleb Syfrett - RAI
Jose Mireles - CW Mathews Construction
Micah Powers - Custom Detail Construction
If your business/company would like to work with our talented students through job shadowing days or apprenticeships, please contact Anna Strickland.
madico made workforce business spotlight